OPTICAL IMAGING AND ELECTROPHYSIOLOGICAL RECORDING IN NEUROSCIENCE
A 14-day residential course of lectures, demonstrations and practical work; a lectures-only option will be available online
LECTURES AND PRACTICALS
Lectures and practicals held at the Université Paris Descartes, 45 Rue des Saints Peres, 75006 Paris, France. Three days of demonstrations and lab visits are run at the Ecole Normale Supérieure (IBENS), Brain and Spine Institute (ICM) and Pasteur Institute. World-expert lecturers and instructors come from Paris, France, Europe, the world.
FEES
The course fee is expected to be 1500€ per student including accommodation and 1100€ without accommodation. Special arrangements exist for attending lectures only (including online for a modest fee) and for students from contributing institutions.
HANDS-ON
The course offers intensive practical sessions over six days, with dedicated instructors and setups assembled with the latest equipment. Students choose 3 techniques from: patch-clamping in slices, field recordings, calcium imaging, voltage-senstive dyes, Neuropixel, photolysis, optical bench and analogue and digital electronics.
BOARD AND LODGING
Accomodation in a student residence should be available. Breakfast and lunch will be provided at the course (except Sundays). All students and lecturers are invited to the welcome and farewell banquets.
DEMONSTRATIONS
There are numerous demonstrations of
advanced techniques
, including: confocal microscopy, high-speed two-photon imaging,
in vivo
imaging,
in vivo
patch-clamp recording, TIRF imaging, super-resolution imaging, extracellular recording
in vivo
, viral transfection methods, wavefront engineering.
PARISIAN RESEARCH SOCIAL
Make the most of your stay in Paris to learn about its extensive research community and meet with local scientists to explore opportunities for collaboration, post-docs and careers. A social evening will be organised to connect interested students and researchers.
All the feedback from the 2018 class
I don't know to write a professional testimonial!!! but I would have trusted a comment that said '10/10 recommended, fun and educational, cool people only'
The course was amazing. Both organizers and lecturers put lot of efforts in conveying information and expertise. Definetely worth it for early career researchers to get necessary basic and practical knowledge on optical imaging.
Great experience! I learned a lot about the different techniques and how techniques I am already using work. Thank you very much!
This course should be mandatory for every aspiring neuroscientist. It is a perfect example on how science should be taught, balancing lectures and practical training. You will come back home inspired and with a whole set of new skills.
The course was a great opportunity to both reinforce my fundamentals in electrophysiology and optics, as well as to get exposure to cutting edge neuroscience techniques. It was also awesome to meet experts from around the world, and to benefit from their perspectives and wisdom.
The lectures, demonstrations, and hands-on experiences were very helpful in solidifying my knowledge of optics and electrophysiology. The invited experts gave great advice and were very willing to talk to students after lectures and beyond the course, for which I am very grateful for.
Really good spring school. They managed to condense lectures from the fundamentals to the state-of-the-art techniques. Practicals and hands-on were focused on what matters, and this was cool.
Having recently started my PhD, I had not yet been exposed to a wide range of neuroscience approaches. It is easy to accept the techniques and tools that your own lab has, but this course has opened my eyes to just how many options are out there, and not just their existence, but how to choose appropriately for your tissue or question, and how to optimise them. I have come back with new ideas about how to approach my PhD questions, and for the first time feel like I understand the technologies I take for granted in the lab every day. It has really refreshed my motivation for my own project, because I am excited to put what I learned into action, and it's great to know that there are so many people I can contact with questions now! Besides the fantastic teaching, it was so much fun and I will miss the course very much!!
It was an unique opportunity to learn an huge amount of things with amazing instructors and incredible students !!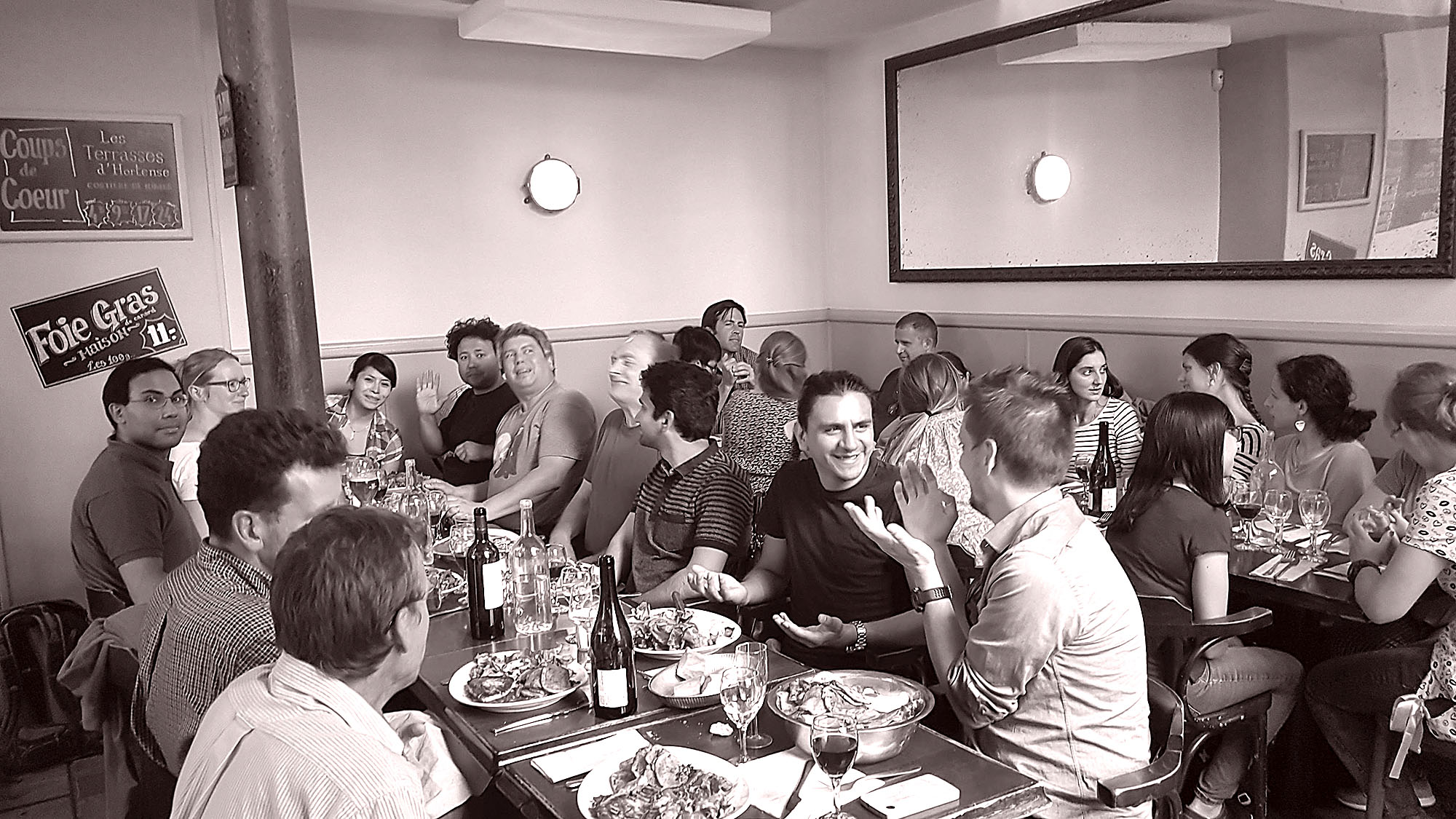 David Ogden
Paris Descartes
Federico Trigo
Paris Descartes
Adrien Schramm
Course manager
Brandon Stell
Paris Descartes
Servane Le Metayer
Paris Descartes
Gilles Dewailly
Paris Descartes
Luc Tamisier
Paris Descartes
Hervé Suaudeau
Paris Descartes